Commodore Wins BE+ Award for Sustainable Construction Innovation
This past week Commodore was thrilled to receive the Sustainable Construction Innovation Award for the 69 A Street mass timber project at the Built Environment Plus Green Building Showcase.
A New Look for an Old Factory
The 69 A Street project renovated and expanded an existing rivet factory in South Boston.
We converted the old three-story building into a five-story office and retail space using cross-laminated timber (CLT) planks supported by glulam columns and beams.  The lightweight and sustainable CLT design allowed us to add two levels without substantially reinforcing the existing structure.
It was also a clear material choice for a dense urban area surrounded by active residences and restaurants with absolutely no laydown and delivery spaces. By creating a detailed and efficient schedule, we could move planks directly from the delivery truck into their appropriate location on the jobsite. CLT also helped expedite the construction process, and the exposed wood CLT ceilings and glulam complemented the aesthetic of the existing wood features of the structure.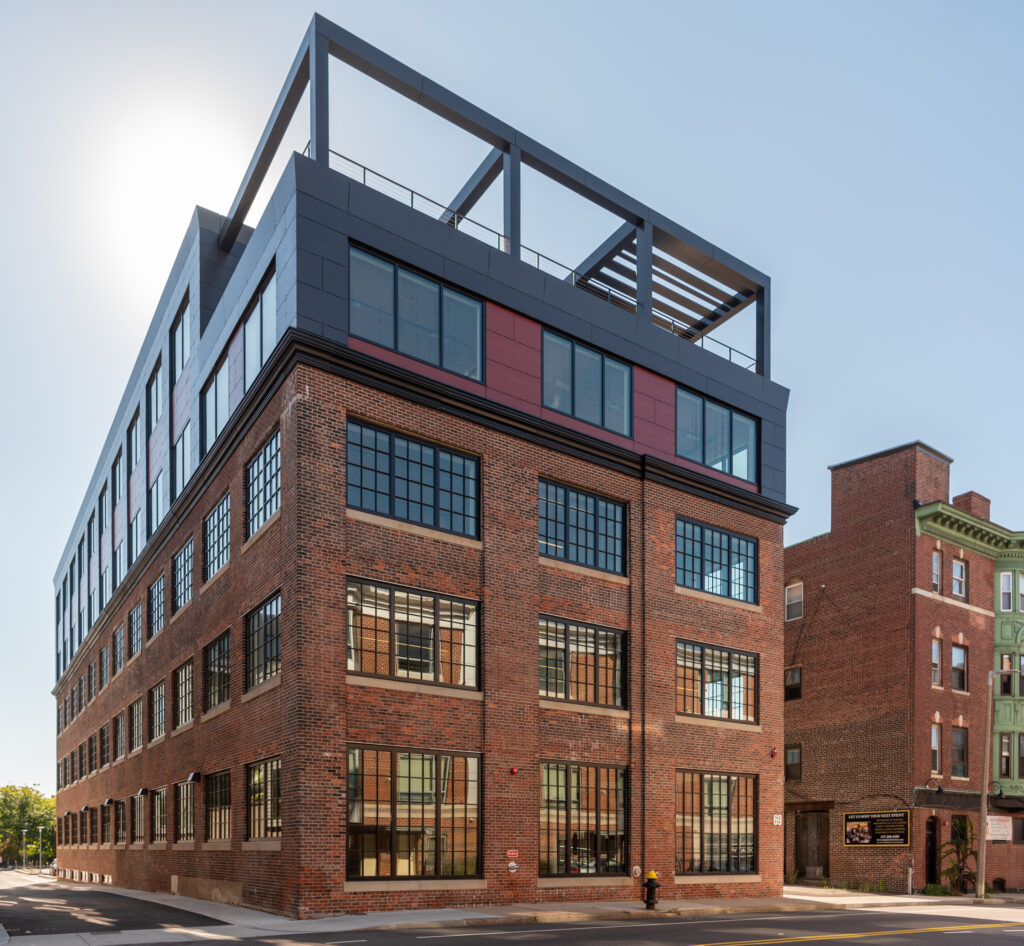 The Future of Boston Construction
Representing the first major CLT project in Boston, it demonstrated that mass timber could be used in renovation projects, not only ground-up work. By working with the design team to calculate the structural impact and carbon savings, this project successfully incorporated a lower embodied carbon building material, supplanting typical steel and concrete additions.
Compared to traditional building methods, we saved an estimated 80 metric tons of CO2 using Woodworks calculations. Additionally, we cut weeks out of our proposed schedule, reducing our community impact and jobsite emissions.

A Replicable Model
We are grateful to be selected for this award and hope that it will help others recognize the replicability of this type of construction. Particularly as these sustainable materials are ideally suited to projects with concerns over materials' weight and logistically-constricted project sites.
When clients want to expand their facilities in congested urban environments, their only option is often to build up, which can be challenging with heavy materials. Replicating this project could critically ease renovation work to many existing structures in Boston and Eastern MA.
The project team, which included MPA, McNamara Salvia, and DBI Projects, was instrumental in designing this major renovation and assisting in the new construction techniques that mass timber structures bring.
Looking Forward
At Commodore, we see increasing demand for integrating sustainable building practices like passive house, WELL Health-Safety, and LEED. With many of these types of projects in our repertoire, we're committed to doing our part to help the industry shift to reflect more sustainable, climate-conscious construction.
A huge thank you to Built Environment Plus and the green building community for hosting this event, and we hope to see you all again next year!
For more about the project, see our ENR feature
Former South Boston Rivet Factory Gets Heavy Timber Upgrade
Are you interested in starting your own CLT project? Reach out to us today to talk about your options!