WELL: What's Next for Our Sustainable Spaces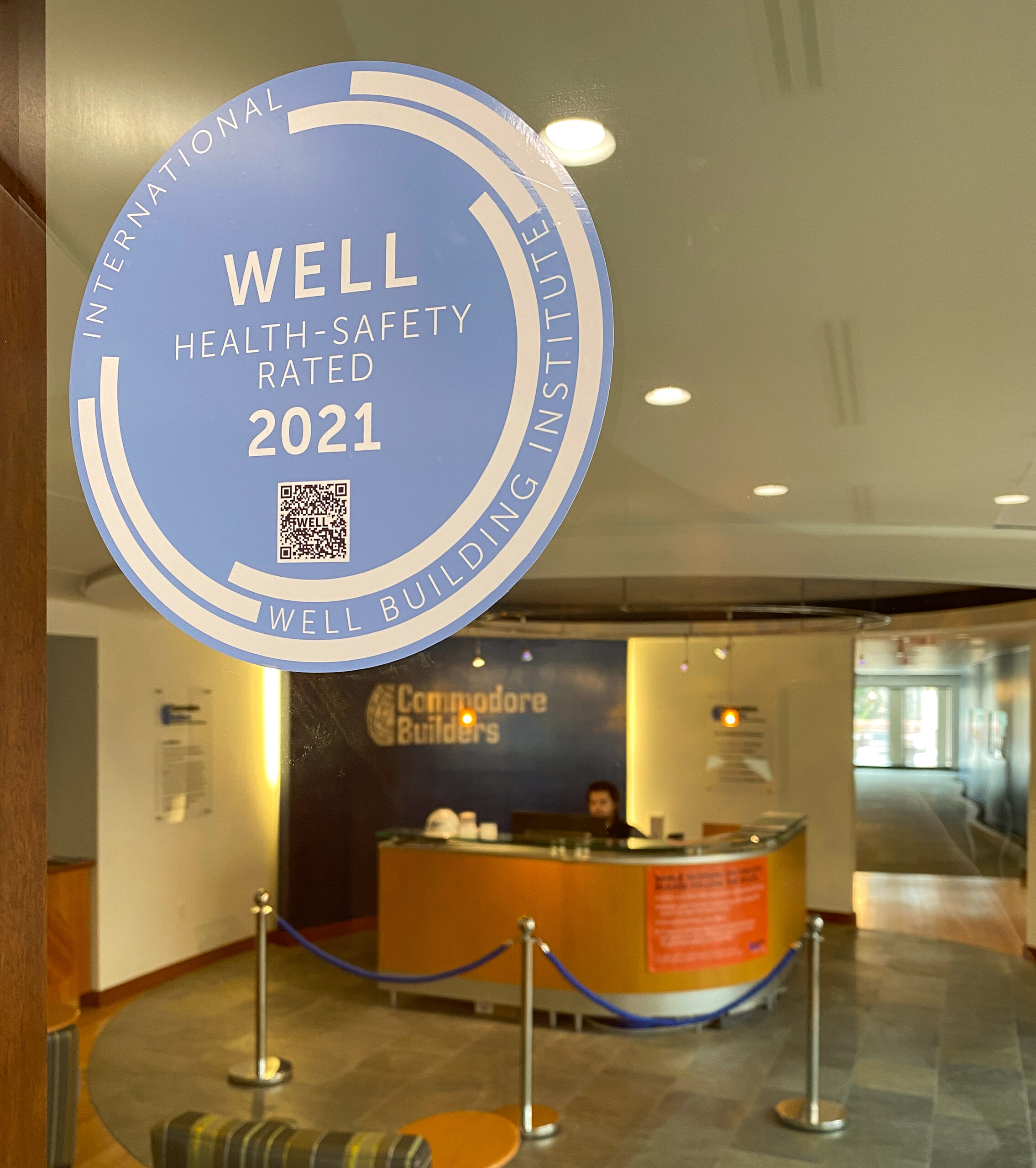 In the US, we spend roughly 90% of our lives inside. Homes, offices, cars, and grocery stores we're indoors far more often than we're not. Thankfully, new systems like the WELL Health-Safety Rating help us all breathe a little easier (if you'll pardon the pun) as we go about our indoor lives.
During COVID, Commodore set out to secure the WELL accreditation. We wanted to help our employees feel more comfortable coming back to the office and to knowledgeably guide our clients through the WELL process when they chose to pursue it.
What is WELL?
The International WELL Building Institute (IWBI) released the WELL Health-Safety Rating to meet building owners' growing demand for information and guidance in the face of the pandemic. However, it's designed for life beyond COVID.
WELL is an annual rating that guides owners through assessing the health and wellness of their spaces along ten major concepts. These concepts are air, water, nourishment, light, movement, thermal comfort, sound, materials, mind, and community.
Within each WELL concept are several features that help guide positive changes to optimize health in indoor spaces.
Achieving the WELL Rating
Like most companies, Commodore found itself navigating a whole new working normal in 2020. Amid these changes, a few members of our team discovered the new WELL rating system.
As the construction manager to build Massachusetts' first passive house college dorm, Boston's first cross-laminated timber (CLT) building, and housing many LEED, WELL, and/or PHIUS-certified team members, WELL aligns closely with Commodore's values. We're committed to improving our sustainable practices and helping our clients create environmentally friendly spaces.
With encouragement from senior leadership and help from the whole team, Michael Orbank (Sustainability Manager – WELL AP, LEED AP BD+C) and Ian Maynard (VDC Manager – WELL AP, LEED Green Associate) set out to achieve the WELL rating for Commodore.
Early in the process, the team discovered that Commodore already met many of the requirements for WELL rating. While these existing features made the process a little easier, many photos, codifications, and conversations were still necessary to achieve the rating.
Filling out the application helped the team learn a lot more about our building's systems. They had the unique opportunity to dive into our HVAC, guidelines, and even cleaning processes.
They liked gaining a deeper understanding of their working space. The team also really appreciated taking a lot of that knowledge into creating healthier homes for themselves. They know better now what cleaning products are best for their environments, what filtration systems will kill germs, and the measurable value of flushing clean air into their rooms.
We're WELL Rated!
As our Sustainability Manager, the exercise fit with Michael's passion and efforts within Commodore. He's spearheaded our Carbon Committee, increased composting in-office, and created more efficient and sustainable jobsites that reflect our own and our clients' environmental values.
But, it was still a long process for the team and Michael and Ian in particular. The pages of submitted documents to help us achieve this rating spanned photos of the depth of our bathroom sinks to the marketing materials from our on-site flu shot clinics to numerous emergency response plans.
Today, all of the hard work feels worth it. When we walk into the office, we see the WELL Health-Safety Rating seal proudly displayed on our front window. It's a recognition of hard work as much as of our commitment to sustainability and a healthy workspace.
What's Next?
In many ways, the WELL Health-Safety Rating is the next iteration of green building rating systems. The rising dedication to LEED, Passive House, and Fitwel reflects our global commitment to building healthier environments, particularly in the COVID-era (read more here).
But it also demonstrates our heightened awareness of how where we spend our time affects us. So, whether we're investing in living biophilic walls, heat pumps, or UV filtration systems, we want the spaces we create to help us live healthy, happy lives.
The WELL Health-Safety Rating system is here to help us create and maintain those spaces.
Are you interested in attaining the WELL Health-Safety Rating for your space? Commodore can help guide you as we manage your construction project. Reach out today to learn more about the process.