Experts in construction management
From the smallest fit-out to the most challenging out-of-the-ground new construction project, we deliver innovative, sustainable projects of which everyone can be proud today and tomorrow. How? Our expertises in preconstruction, technology, and safety allow us to eliminate surprises while delivering excellent results.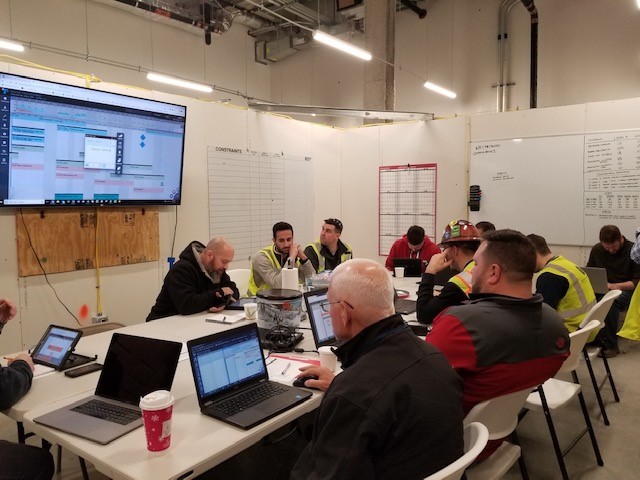 The value of preconstruction
Our preconstruction process is built around the spirit of collaboration and transparency, aiming to build trust and provide a certainty of outcome. We believe that proper planning at every stage of the project is essential to the overall success of the project. That's why we've invested time, resources, and effort into developing a robust process that leverages the significant experience and talent of our team.
We strive to define and anticipate each client's needs and goals through a collaborative process that involves key stakeholders as early as possible, allowing us to eliminate surprises during construction by identifying potential issues before site mobilization. We start this process by aligning the whole team with the project's goals, focusing on three overarching areas: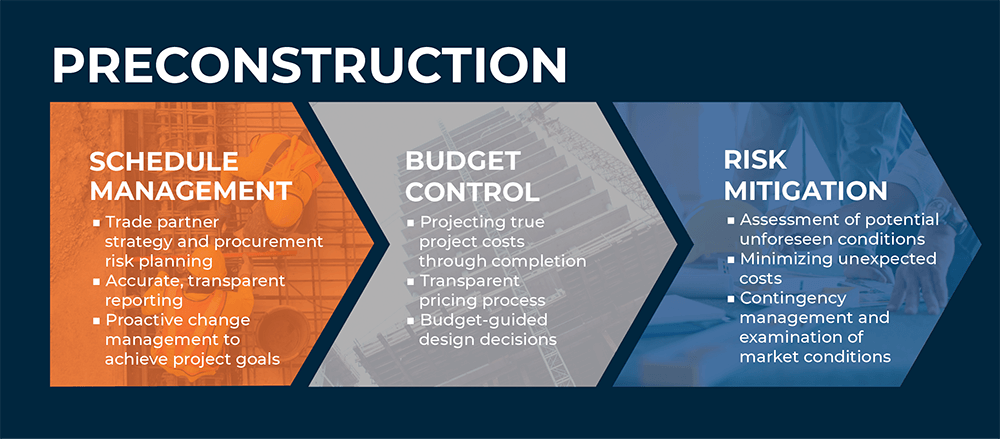 Budget: Our team of dedicated estimators, supported by systems-based experts and trusted trade partners, allow us to minimize unexpected costs and support budget deliverables while understanding risks and opportunities associated with scope, market conditions, escalation, further development of the design, and potential unforeseen conditions. We won't just tell you our estimate, we'll show you how we developed the true costs associated with design decisions because we know the importance of informed decision making.
Scheduling: Supported by a dedicated project planner, our entire Planning & Preconstruction team, and our in-house scheduling department, our preconstruction process includes a tremendous focus on schedule to manage critical project goals and deliverables. We identify potential risks and impacts to the schedule and develop mitigation strategies to stay on schedule.
Risk Mitigation: During preconstruction, we consider factors like unforeseen conditions, potential program adjustments, market escalation, and general inflation to develop strategies to keep the project on time and on budget. We include all stakeholders in a thorough document review to identify potential issues and problems well before site mobilization, which enables our team to develop the best, most cost-effective solutions without disrupting the schedule.
While we employ best practices, we taper and modify our preconstruction planning regimen to meet all your requirements and program needs. We expect the preconstruction process to be a continuous, collaborative effort from award to the start of construction with defined milestones throughout.