Taming the Wilds of Colorado with Jess Zeliger
It took only four days in Yosemite National Park to hook Jess Zeliger on exploring the great outdoors for life.
Jess's passion for getting into nature began with an Ansel Adams exhibit. After Jess Zeliger, C.O.R.E./Project Engineer visited the show with a friend – the two decided they had to see the subject of his photos for themselves and headed to Yosemite.
Years later, Jess has traveled the US searching for new beautiful outdoor vistas to admire, hike, and help preserve.
Seeking Dirt and Adventure
On her inaugural voyage to Yosemite, Jess was drawn in by the volunteers she'd seen around the park. She was curious about the people who looked very dirty and like they were having a ton of fun.
Soon afterward, Jess graduated college and was looking for a bit of adventure before settling into a more traditional job. She decided on a whim to apply to the Rocky Mountain Youth Core in Steamboat Springs, Colorado.
To her surprise, she was accepted. She spent the subsequent five months with a crew of ten traveling around Colorado and Wyoming, helping towns and parks maintain their beautiful outdoor spaces.
What she found during that time was the promised dirt, backbreaking work, and one of the best experiences of her life.
'We're the Mules'
Those who hike, bike, and meander through our public parks and forests, might not appreciate all the hard work crews like Jess's put into them. It's challenging to carve paths that won't erode, fences that keep animals where they're meant to be, and rocks that don't slip out from under mountain bikes.
Jess and the crew did this exact work in Breckinridge, Dinosaur National Monument, Arapaho National Forest, and near Laramie, Wyoming.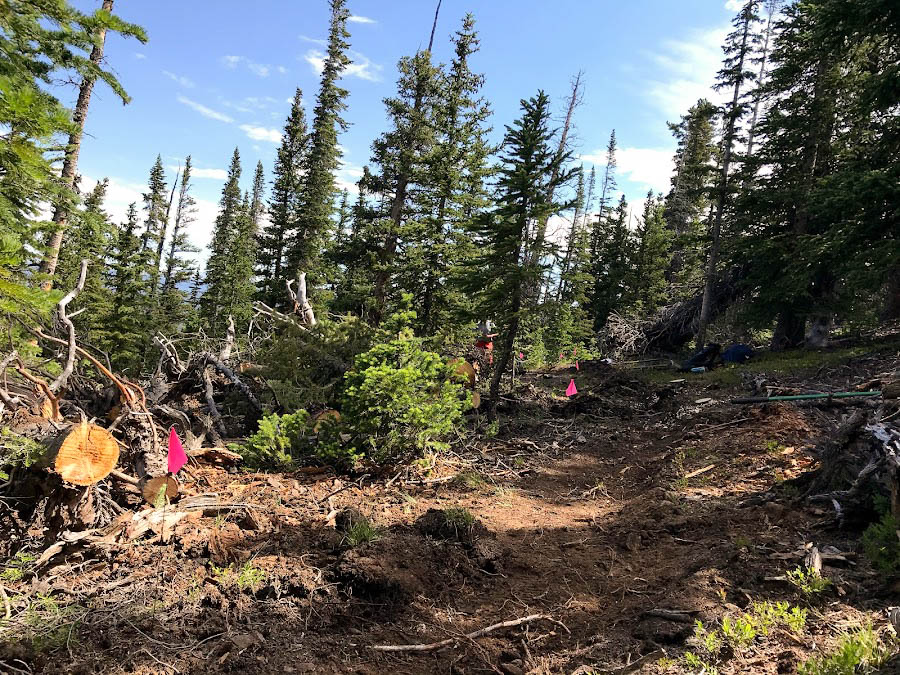 Her group spent much of their time on trail maintenance. They drew on guidance from experts who surveyed the slope and designed paths to shed water naturally and minimize erosion. They brought in gravel to build turnpikes through marshy areas, dug out massive boulders that could get dislodged by passersby, and hauled in all the material for bridge-building.
During one of their stints, they carried twelve 16-foot timbers and 64 tread planks a quarter mile up the mountain by hand. Each timber weighed 300-400 pounds (depending on how wet it was) and took ten people to move.
Believe it or not, the treads were actually more difficult to move. Due to their short length, only one person could carry them at a time, and each weighed 50-80 pounds. Not only did they have to haul all these materials up, but they also had to bring the old stuff down.
Jess remembers all this fondly. She has great memories of the Ironman soundtrack blasting in the background and inspiring their next steps. The countless hikers stopping and saying, 'don't you have mules to do that carrying?' The mud and sweat brought her team closer together.
Learning from Hauling
Not only did she learn a great work ethic, but she also came to understand the value of a team and effective communication.
In her work as a C.O.R.E./Project Engineer with Commodore, Jess is rotating through different construction roles.
But her early lessons in trail management linger and inform her work in construction. In Colorado, Jess learned quickly that when you're building a trail, you can't be the only one cutting the new tread because you'll exhaust yourself. You must rely on your team, taking turns cutting and supporting one another through the long days. It's the same with working in construction; you cannot work alone. You need to rely on your team to help you through challenging days and tight deadlines.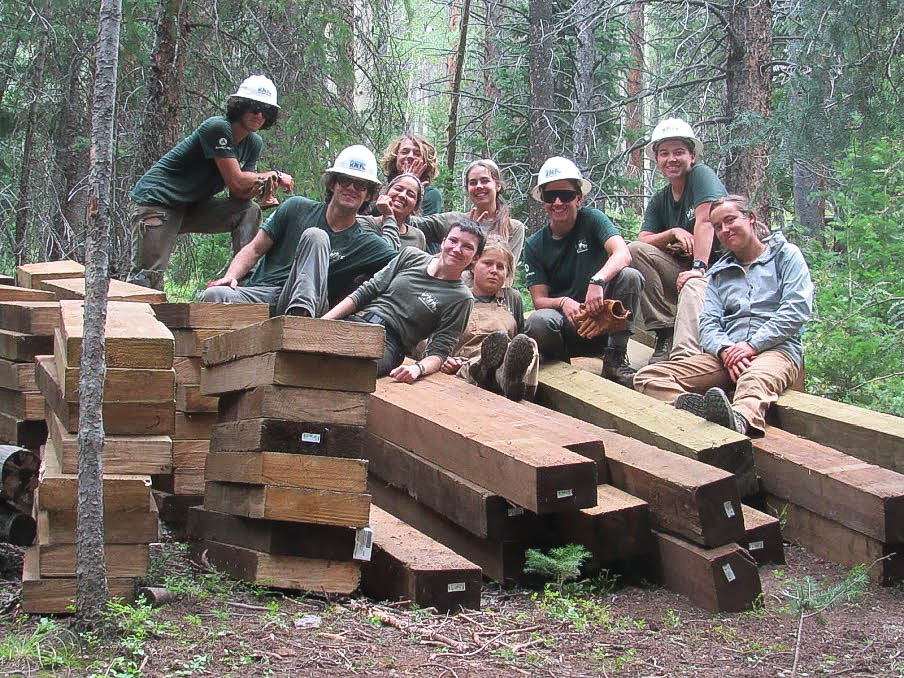 Jess also learned how to communicate with people who have varied life experiences while maintaining a good work environment on the trail. She brings this skill to her current rotation on our Estimating team. She works hard to build strong relationships with architects, subs, and others in the construction management field who all speak different dialects of the same project language.
Mind the Moose
There was a bit of fun mixed into the hard work and quite a few surprises. Including one morning when Jess was late for breakfast because she was trapped in her tent by a nearby moose!
Did you know that moose kill more people than bears every year? Thankfully Jess did and stayed put until the unwanted friend moved on.
A Deep Quiet
Gratefully, the adventures didn't stop with the moose.
She also explored the area's parks during their weekends off, including a trip up to Yellowstone and a trek to a waterfall with nearby hot springs. Jess and her friends spent hours in the hot springs, using it as a natural spa, soaking away months of grime and sore muscles.
The adventurers also traversed four 14'ers (14,000-foot peaks) in one hike and explored Moab and the Canyonlands and Arches National Parks. They hiked the slot canyon, a river at that time of year, and ended at a gorgeous waterfall.
They even got to sleep on the sand dunes, a wonderful dusty escape. Since the dunes are windy in the day's heat, they backpacked out in the evening. They traversed the hills with sand flying in their faces, barely able to see by the moonlight. But then they woke up the following day to absolute silence. Jess says it's like being on another planet, but you can still see the mountains, so you know it's real.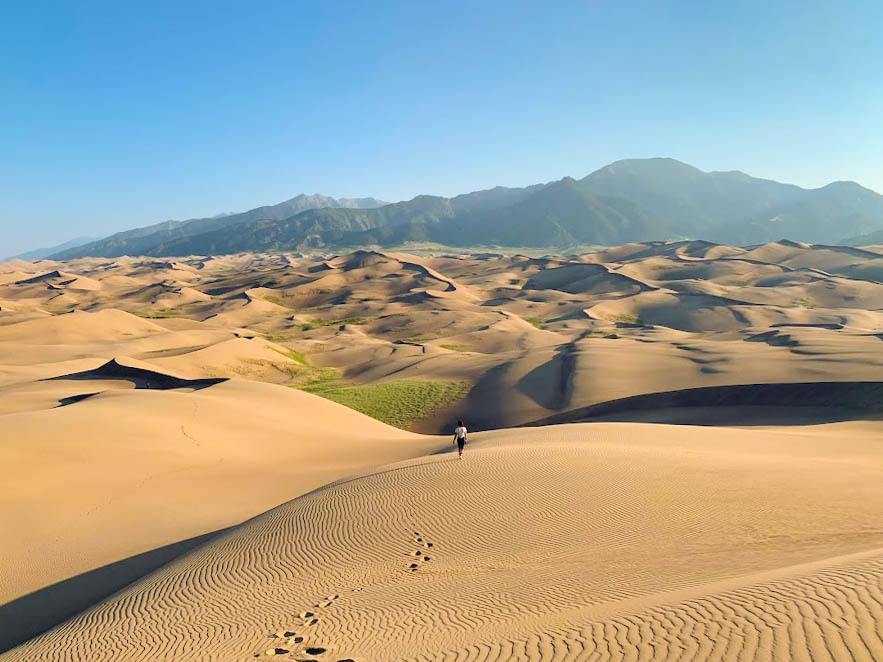 These adventures are one of the reasons Jess is so passionate about protecting our public lands. They're one thing to know about in theory, but in practice, they're incredible and free. Anyone can embrace this fantastic resource, although so few take advantage.
What Can Hiking Teach the Construction Industry?
Aside from communication and teamwork – Jess learned one big lesson in the wilds of Colorado that she wants to bring to construction. To take a minute and appreciate where you are and the hard work that has gone into getting you there.
On a hike, you usually have a beautiful summit on which to sit and munch a well-earned PB&J while admiring the gorgeous view. But it can be challenging to find that moment during the construction process.
As Jess notes, of course, it's essential to keep on top of the next shipment or the schedule. But it's also valuable to take a moment out of your day to acknowledge the enormous effort that goes into a project. To recognize all of the moving parts, the materials, and the exertion of hundreds that come together to create a building from the ground up.
While we may not all be able to spend time preserving or exploring our National Parks, we can all follow Jess's example and try to pause in the demands of our days to appreciate our accomplishments. In the meantime, we're looking forward to keeping up with Jess's future adventures and successes in the outdoors and on our jobsites.