With 'Really Remarkable' Speed, Mass Timber Construction Has Caught On In Boston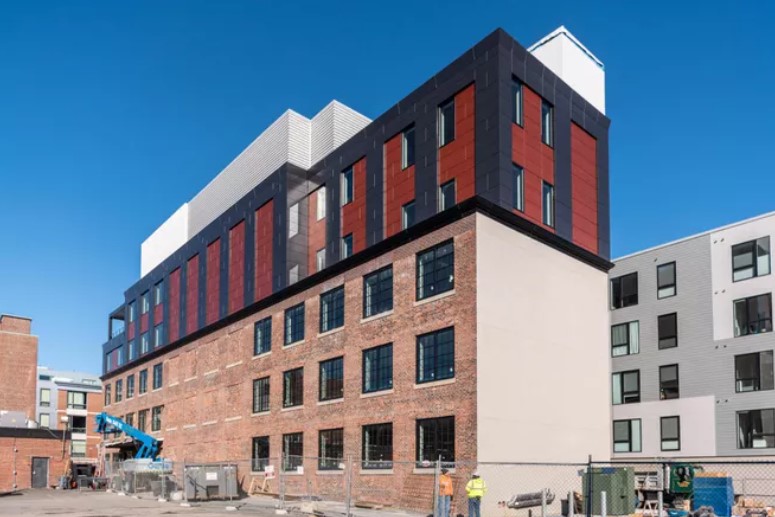 https://www.bisnow.com/boston/news/sustainability/mass-timber-rising-in-boston-as-climate-friendly-efficient-steel-alternative-106853?utm_source=outbound_pub_1&utm_campaign=outbound_issue_43217&utm_content=outbound_link_3&utm_medium=email
Bisnow Boston
Author: Andrew Martinez
Published: November 24, 2020
Developers in Boston are vying for their projects to be the city's premier showcase of mass timber construction, an increasingly popular building style that eschews steel for highly compacted wood.
In South Boston, the nonprofit Council on International Educational Exchange is planning to move into a new five-story headquarters at the city's first cross-laminated timber facility when it opens in February. In Roxbury, developer Placetailor's planned 14-unit apartment building in Boston is being touted as Boston's first ground-up, full CLT demonstration, with construction pledged this year and an expected winter 2021 debut.
In Roxbury's Nubian Square, developer New Urban Collaborative is proposing a 14-story wood exterior tower of offices, living spaces and cultural sites that would be among the tallest lumber structures east of the Mississippi, according to plans it has submitted for the city-owned parcel.
These developers aim to reap the benefits of a quick, cost-efficient construction alternative to steel and concrete while falling in line with Boston's goal of being carbon-neutral by 2050.
The various projects and proposals represent Boston's first foray into the new construction already embraced in CLT offices in Chicago, where a 42K SF mass timber building is the city's first large lumber project in 50 years. Milwaukee's Ascent, a 283-foot, 25-story apartment complex, would be the world's tallest CLT tower once completed, eclipsing Norway's Mjos Tower.
Mass timber refers to lumber compiled in either a glued laminated structure (glulam) for beams and columns or cross-laminated timber for floors, roofs and walls. The components differ from the solid timber beams supporting mid-century mill structures seen across New England, UMass Amherst Wood Mechanics and Timber Engineering professor Peggi Clouston said.
"Both (CLT and glulam) are intended for large-scale construction," said Clouston, a 30-year veteran of the industry. "They can be used for residential, but really their engineering design is to compete with steel high beams."
The International Building Code standard for a new mass timber height of 18 stories was preemptively adopted by several states, and Boston Planning and Development Agency Senior Architect for Sustainable Development John Dalzell said the industry anticipates Massachusetts following suit next year.
"This is an incredibly regulated industry," Dalzell said. "These kinds of changes are really remarkable. There haven't been these kinds of changes in the code in my professional lifetime."
Architects and engineers are finally figuring out proper ways to use CLT as the industry anticipates the update to construction codes to allow 18-story buildings, New England Forestry Foundation CEO Frank Lowenstein said.
"There's this gradual building confidence in the material, a gradual collective understanding of its potential," Lowenstein said.
Construction managers for CIEE's headquarters, at the 45K SF former rivet factory at 69 A St. in South Boston, have already stacked two CLT stories on top of an existing 100-year-old, clay brick and heavy timber three-story frame. The floors were completed in days rather than weeks, representatives from contractors Commodore Builders and McNamara-Salvia Construction said.
"With CLT and mass timber being roughly a third of the weight of concrete, it was a no-brainer," McNamara-Salvia Senior Project Manager Bryan Maltais said. "Just the costs and savings for the foundation was a major choice."
Maltais said previous iterations of the site plan, such as a composite steel system, required massive foundation upgrades. The CLT materials weigh 35 pounds per cubic foot compared to concrete's 150 pounds per cubic foot, according to Commodore.
"Schedule is everything with mass timber," Maltais said. "It comes cut precisely and goes up super fast … The benefit behind that is you're not waiting for additional crews to come back and tighten it up, you can just keep going right underneath it and it's safe."
The tower proposed by New Urban Collaborative for Nubian Square's Parcel 8 in the neighborhood's northern corner is significantly taller than the previous title-holder for the highest mass timber pitch in Boston, a seven-story, 34-unit multifamily proposal at 11 East Lenox St. locked in a city review process.
"Because it is a carbon storer, it contributes much more positively to the impact of the building on the environment," said Zephyr Architects Principal Ryan Link, who's behind the proposal.
Placetailor's five-story apartment complex at 199-201 Hampden St. in Lower Roxbury pitches the project as a catalyst for CLT design in the Greater Boston area. The city's Zoning Board of Appeals approved the plans last November and construction should be complete by winter 2021, according to design firm Generate Technologies, a company launched out of MIT's Mass Timber labs.
"This is going to set the tone for what we are going to build for some time and the rest of Boston as well," Placetailor Strategic Director Colin Booth told WBUR in July.
Booth didn't respond to repeated inquiries, and the site is too small to qualify for BPDA review, leaving no documentation readily accessible, a BPDA representative said.
Carbon-storing timber is a natural answer to the call for greener buildings by Boston Mayor Martin Walsh, who set a goal of a carbon-neutral city by 2050, Dalzell said.
"We're in that very beginning stage, where a project here and a project there is really exciting and noteworthy," Dalzell said of Boston's emerging CLT landscape. "I don't think we're far behind."
New England contains 33 million acres of forest covering 80% of its landscape, Lowenstein said, and Clouston said mass timber builds are ripe for utilizing the region's abundance of trees.
"In New England, we used to use our trees for furniture, but less and less now," Clouston said. "The forest industry has been in a state of decline, and market incentives like CLT — especially CLT, because it's so voluminous — it can help offset the cost of harvesting the trees."
Costs aren't so much a prohibitive factor to mass timber designs as developers' familiarity with the product, Lowenstein said.
"To some extent, the shipping is still an issue," Lowenstein said. "There's not a plant in New England yet."
Fewer than a dozen mass timber production facilities are strewn west of the Mississippi, Clouston said. Nevertheless, construction costs are "very close" to being balanced despite less-than-ideal supply lines, Dalzell said.
"What's interesting is that the supply lines are in their infancy," Dalzell said. "Once there is more consumption, we'll see better cost control and better supply timing."
Maltais said Boston is primed for widespread CLT development because of the ease of working with older building stock as his team saw at 69 A St.
"I'm hopeful projects like this are a good vehicle to bridge that gap," Maltais said. "We've got a lot of this old building stock that has potential to be developed like this that wouldn't normally allow for it on tight budgets looking at your typical steel-concrete construction."