What do Interns Do?: learning from 3 of our interns across Commodore
The role of an intern varies widely from company to company and even department to department. To give you more perspective about what it means to intern at Commodore, we asked 3 of our current Northeastern CO-OPs about their experiences. Read on to learn about what it means to work with Commodore in the Corporate Interiors, VDC, and Marketing groups.
Amanda Hansen – Corporate Interiors Group
Reflecting on the past few months as an intern on the CI team at Commodore Builders, I can confidently say I've had a thoroughly rewarding and enriching experience. Coming from an architecture background, I was new to the world of construction management but eager to learn. My team members were patient with me as I gained an understanding of the role construction management plays in the broad scope of construction and all the behind-the-scenes moving parts.
Early in my internship, I was challenged to step outside my comfort zone, which I'm so thankful for because it was in these moments where I learned the most. I wasn't afraid to ask questions if I was ever stuck, and my team always guided me. One of the great things about Commodore is its strong support network. There's always someone happy to help.
In the City and On-Site

I got to work in the Boston office for about two months for the preconstruction phase before moving to our field office at 110 Chauncy Street for construction. Before I started at Commodore, much of the physical construction process was a mystery to me, so seeing materials that I had reviewed start arriving on-site and getting installed was fascinating and changed my whole perspective. I quickly gained a high level of respect for the implications of what I was helping my team with, which included creating submittals, helping with RFIs, and releasing subcontractor materials.
During my internship, I was on the team for the 110 Chauncy Base-Building and Sasaki Fit-Out projects. It was a unique experience since it was essentially two simultaneous projects in the same building. It required lots of coordination between projects and always being careful about which project I was working on, but it ultimately helped me strengthen my ability to focus on the details.
Learning About Balance
A key take-away from my time at Commodore was interacting with both the subcontractors and architects and balancing the priorities of all involved parties. As an architecture major, it was refreshing to experience the construction process from a different point of view. As I return to study architecture, I now have additional perspectives to consider to create more comprehensive projects.
What's Next
As I finish my internship at Commodore, I take away a much greater level of understanding and a much more holistic perspective of construction that will prove invaluable as I return to my third year at Northeastern University and begin studying abroad in Spain. I don't doubt that the skills I've gained, both technical and soft, will help me succeed down any career path I take.
– Amanda Hansen
 Cat Brownwell – Virtual Design and Construction
My time at Commodore Builders has been incredibly insightful in many ways and has given me a greater perspective of and experience in the construction industry. Coming in from studying architecture, this design area was entirely new for me. Throughout my CO-OP here, I've gained a rare and valuable understanding of the inner workings of buildings, from their conception to their construction.
How It All Comes Together
The biggest project I've been a part of is the Dennis Yarmouth Intermediate Middle School. Working with VDC on this is very exciting and has taught me a lot about the procedures and processes that go into coordinating the internal systems of a building.
Through this work, I've discovered the intricacies of design, modeling, and clash-coordinating the trades that operate behind the scenes in architecture. I also learned a lot about the methods of problem-solving involved in these projects, such as coordination meetings and RFI's. I've had a meaningful glimpse into all of the trades, as well as the interlinking roles of architect and contractor.
Laser Scanning in the Field
One of my favorite experiences during my time here has been laser scanning buildings. I've gotten to travel around Massachusetts and investigate several different types of projects in various stages of construction, such as Sasaki, Takeda B400, and Charles Park.
These site visits have been fascinating in that I've had the opportunity to learn and use the complex scanning equipment Commodore uses for coordination.
Going Forward
The experiences and knowledge I've gained during my months at Commodore will undoubtedly stay with me throughout the rest of my education and my career. During the rest of my time studying architecture, I'll keep an appreciation for construction and engineering and apply it both in the classroom and in my career. Thank you to all the people who made this experience exciting and worthwhile.
-Cat Brownell
Emma Lindwell – Marketing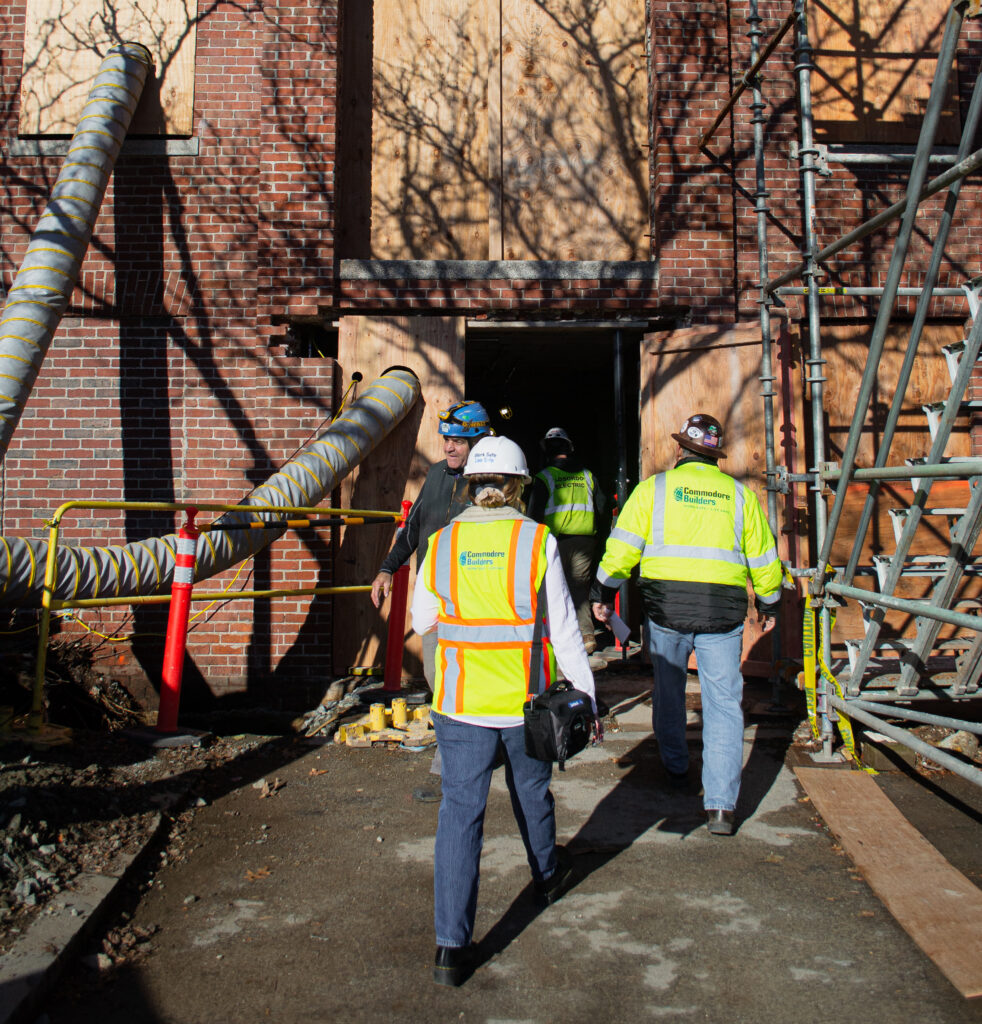 Working as the Marketing Intern at Commodore Builders has been an incredibly fulfilling experience. Having the opportunity to work on a collaborative team while gaining diverse experience has made these past six months educational and enjoyable.
The Value of Working In-Person
Commuting into the office daily was quite the transition, as due to the pandemic, I was in remote classes for the year and a half prior. But working in person facilitated lasting relationships with a team with which I was lucky to work.
I would describe the marketing team at Commodore as a jack of all trades. From proposals to event planning to social media, I got to learn a little bit of everything. Collaborating with this group of experienced professionals, I learned never to be afraid to ask questions.
No Two Days Are the Same
Working on proposals was an important element of my job as a Marketing Intern. Coming into the position, I didn't quite understand what proposals were or what it took to get them done. Now I appreciate that proposals are all about communicating how our firm will best manage the given project to clients. This takes skill and good communication internally with teams and externally with the client.
Social media was also a big part of my job at Commodore, including looking back at the past month to see what worked and what didn't and using post analytics to help develop new and fun ideas.
Learning Through Doing
I also had the opportunity to travel to our projects and take pictures and videos that helped me see the beauty and the skill behind construction.
Talking with the superintendents and project managers and taking photos allowed me to look at sites differently. One of the most recent projects I had the privilege of visiting was the 69 A Street building. The bare bones of the mass timber building were fascinating to photograph.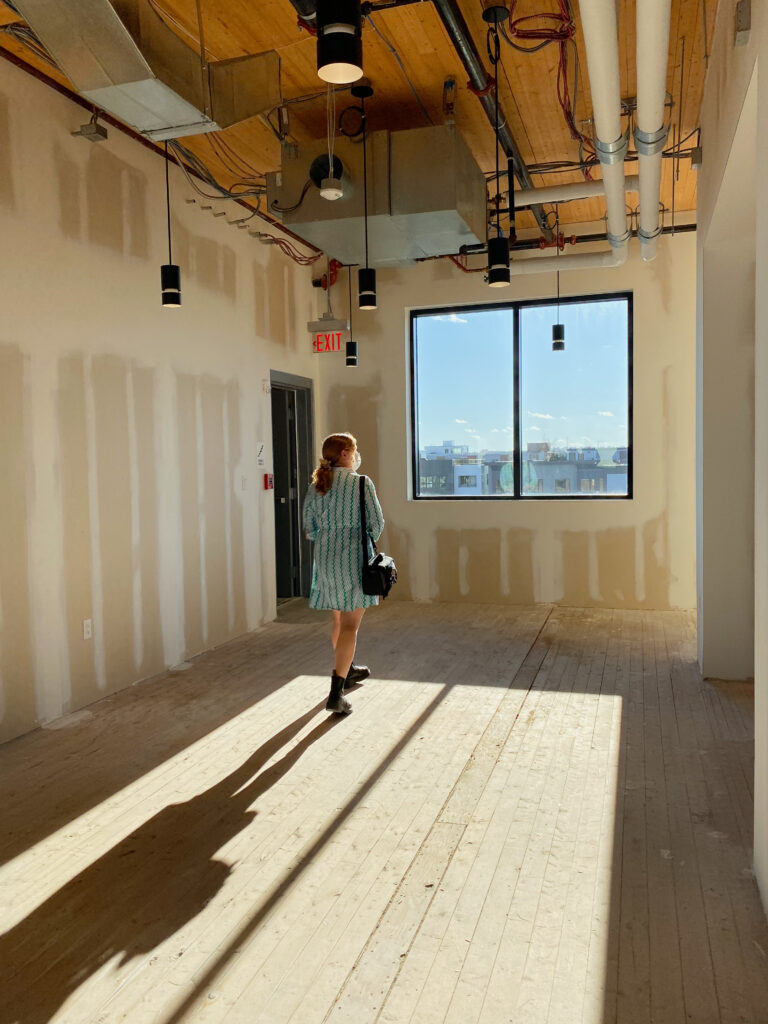 Finally, one of my favorite experiences was working on event planning and design for Commodore's annual charity golf tournament at the end of August. This was early in my CO-OP, but it was fascinating to see the value of detail-orientation when planning events and designs. And it felt great to be a part of the team that helped ensure the tournament went off without a hitch.
I even got to work the event, chatting with the subcontractors and getting to know the people of the Commodore family.
The Big Picture
Overall, one of the most important lessons I learned was about conveying the company's voice and brand. Plus, I had the pleasure of working for a team that prioritized creating an enjoyable workplace, where coming to the office was fun. Without this collaborative team, I would not have grown and learned as much as I have.
Are you interested in joining the Commodore team as an intern? Check out our website to learn about our projects and the different departments with which you could be involved!