Pushing Yourself: Cycling with Brian Baynes
Success doesn't fall out of trees. You have to drive yourself, apply yourself, and kick yourself in the butt when you get complacent. Our Director of Field Operations, Brian Baynes, balances his career and life on this idea.
For the past five years, he's also applied this idea to a new interest, cycling. He's tackled increasingly larger hills and longer distances, building a new community and discovering a new passion.
Seeking a New Outlet
In 2018, as empty-nesters, Brian and his wife realized they needed a new hobby. They wanted to fill the hours that used to be consumed by sports games and hectic family schedules.
The couple decided to buy commuter bikes and start exploring the rail trails around Boston a few miles at a time. After a year of these short expeditions, Brian had a chance to ride 10 miles on his son's road bike. He quickly realized there was a lot more to enjoy about the sport when you have the right gear.
Racking Up Centuries
What started as a promise to keep it low-key and just enjoy a nice new road bike and kit quickly turned into a full-scale preoccupation. Brian's hooked on cycling and enjoys putting the latest gadgets and upgraded components on his bike and running the elements to the test.
Last year he cycled 6,000 miles. That's roughly 400 hours of 2021 spent on the roads of New England, climbing hills, swerving around potholes, and ceaselessly competing with himself.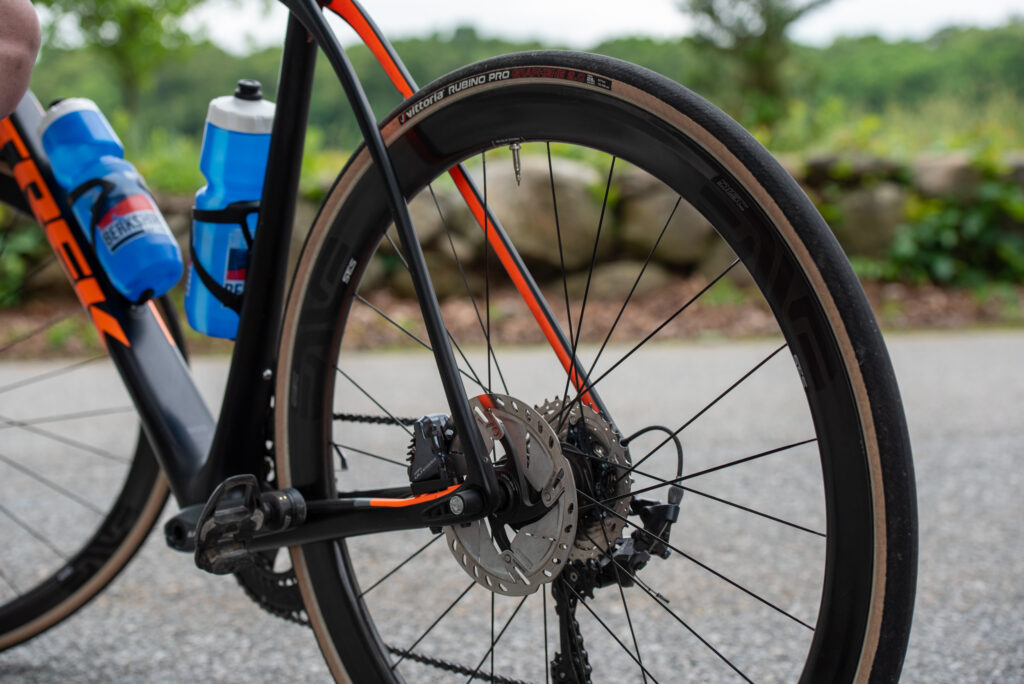 This year, he's logged 2,300 miles since January. He's prepping for B2VT, an intra-state event with century rides and weekly hill training. This will be his third time completing the B2VT, which goes from Bedford, MA, to Stratton Mountain in Vermont. It's a grueling 142 miles in one day with about 9,000 feet of climbing, roughly like hiking Mount Washington twice.
To get ready for this intense day, most of Brian's Saturdays since April have included an 80-mile ride, followed by about 30 on Sunday. Then he logs a moderate 25 miles on Wednesday nights with anywhere from 2,100 to 3,000 feet of climbing.
A Family Affair
Today the Baynes family is all over the road year-round. Brian and his wife still do a sedate ride on occasional Sundays to get the lead out, while the rest of the week is reserved for more serious cycling. Brian's kids and future sons-in-law are also avid riders, giving the Baynes' a fun group activity.
When he's not riding with his family, he's out with a local riding group that helps him train for the B2VT, which is coming up on Father's Day weekend.
To mix things up, Brian and his riding companions seek out long and arduous routes across New England. One weekend they rode from Arlington to Provincetown, 146 miles, then took the ferry home. The next day they rode from Arlington to Ipswich and back, logging in a total of 260 miles between the two days. On another, they picked a route that took them 134 miles, summitting Pack Monadnock Mountain and then Wachusett, gaining over 10,000 feet of vertical.
Motivating In and Out of the Office
The same intensity that propels Brian to seek out 10k of hill elevation drives him in his work. His job is to juggle responsibilities constantly. He's effectively a problem-solver, a mentor, and a general super. He helps the team identify challenges and find solutions.
Schedules are constantly updating in the fast-paced construction industry, and the teams need regular communication. Brian's job is to stay on top of the many moving parts and make sure his team has the tools and support to succeed.
Whether on a saddle or an office chair, Brian continuously pushes himself to improve and connect with everyone around him to ensure they can do the same.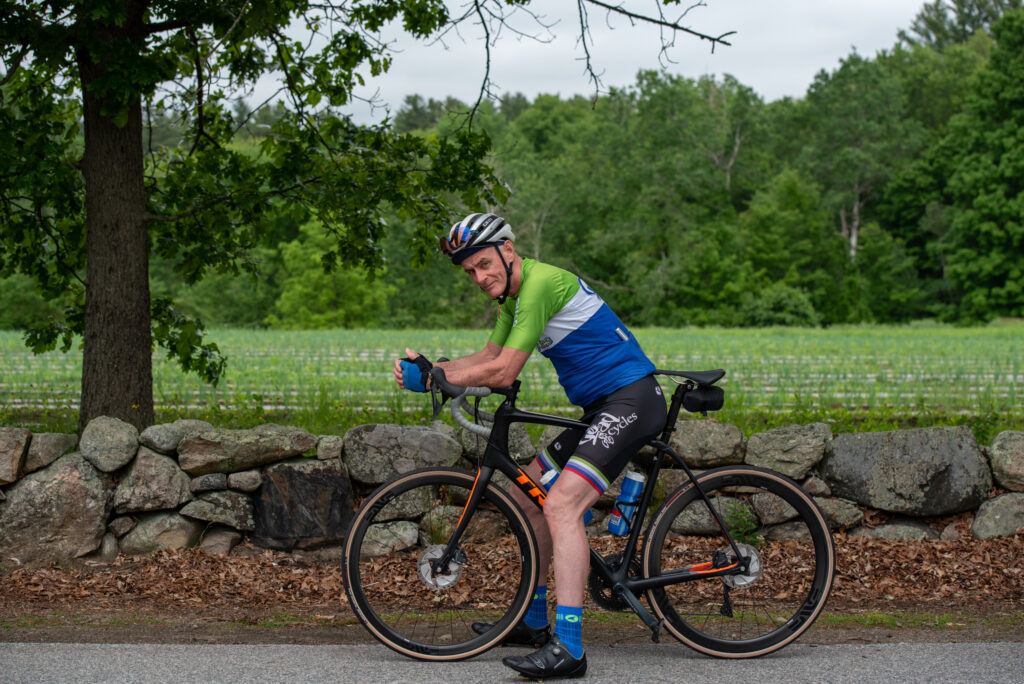 Together in Solitude
When he can leave work for the open road, what does he think about when he's riding mile after mile and competing against himself? Nothing.
Across the many hours of cycling, aside from the stray thoughts like, 'am I keeping pace,' 'avoid that pothole,' and 'I could use a snack,' for Brian, the rides are an outlet to quietly relieve the week's stress. They're a few hours when he can completely clear his mind.
Cycling isn't about catching up with friends or teamwork for Brian; it's about pushing himself. But, the riding seclusion does balance with a caring community of cyclists.
An Expanding Community
Despite the self-competitiveness of the ride – the expanding cycling community is built on a network of helpful people.
You don't pass another cyclist on the side of the road without making sure they're ok. There's a camaraderie to the sport. You offer what assistance you can, like a new tube or patch, and know that someone will do the same for you.
Brian's even joined a 'Beer and Wrench' night with his riding group. Members gather occasionally to hang out, enjoy each other's company and help one another fix their bikes. Like his work supporting the Superintendents of Commodore, Brian enjoys helping people so they can improve in their jobs or on their next rides.
Five years and 18,000 miles ago, Brian and his wife went looking for a hobby. Today, he's found a new way to stay connected with family, challenge himself, and maintain balance in life. With long rides to clear the mind and causal nights to make new friends, cycling's become infused with his life.