MEET JIM STADLER, OUR PROCUREMENT EXPERT.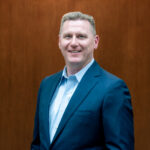 Jim is Vice President of Estimating and Purchasing at Commodore Builders. He brings over 20 years of experience working across all our markets including Life Sciences, Public and Municipal, Corporate Interiors, Commercial, and Institutional. His deep knowledge of costs during preconstruction planning helps to guide our teams through the cost planning process. Jim holds a B.S. in Civil Engineering from Norwich University.
Q1 2023 Market Analysis | Where we are today
The construction market has officially entered a time of uncertainty.
The American Institute of Architects (AIA) and Engineering News Record (ENR) report uncertainty with the market while the Associated Builders & Contractors (ABC) and Dodge Date & Analysis report growth last quarter. Contractors continue to stay busy in Q1 2023:
Commercial construction is up 8.7%
Office construction is up 4.7%
Reported backlog of nine months on average across the country
However, architectural billings and contracts are still declining from Q3 2022. This contrast is often a leading indicator of what's to come in construction, and perhaps why the AIA and ENR are cautious in their outlook.
Regionally, ABC reports the South outpacing the rest of the country with 10.5 months of backlog, but they are still trending lower (-1 months) from Q4 2022 and on par with the Northeast (trending -0.5 months). Both the Western and Central U.S. have increased their backlog by 0.9 and 1.8 months, respectively.
Supply Chain: In Q1 2023, lead times for many items stabilized. Alternate domestic manufacturers have been able to provide shorter durations for many materials. Electrical distribution equipment continues to be a challenge, particularly for larger scale switch gear packages, pad mounted equipment, and generators. Overall, logistics continue to be a challenge with difficulties in obtaining raw materials due to the conflict in Eastern Europe, congestion in shipping ports, increased petroleum costs, and a decrease in truck drivers.
Material Costs: Apart from some outliers (concrete, steel, aluminum, and copper), the Producer Price Index (PPI) showed signs of stabilization in Q1 2023. Construction material costs overall are still higher than Q1 2022, but the trend has slowed significantly. We expect to see fewer fluctuations in the cost of commodities for the remainder of 2023.
Construction Escalation: In 2022, ENR reported a 9% construction escalation in the Boston market, only slightly lower than 2021's level of 9.5%. While these values are significantly higher than the 2.5% – 4% averages seen over the last decade, they are a far cry from the 12-15% increases seen in the Pacific Northwest & Sunbelt states. These increases are driven by material cost increases, supply chain shortages, higher labor wages, and larger backlogs of work.
While the Fed has raised interest rates to quell inflation, we still expect to see higher than normal escalation rates. Our forecast remains at 6% for the year.