MEET JIM STADLER, OUR PROCUREMENT EXPERT.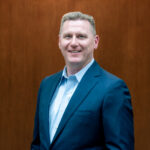 Jim is Vice President of Estimating and Purchasing at Commodore Builders. He brings over 20 years of experience working across all our markets including Life Sciences, Public and Municipal, Corporate Interiors, Commercial, and Institutional. His deep knowledge of costs during preconstruction planning helps to guide our teams through the cost planning process. Jim holds a B.S. in Civil Engineering from Norwich University.
WHAT'S THE BEGINNNING OF 2023 LOOK LIKE?
Workforce shortages continue to impact projects, creating longer schedules and higher costs, and I anticipate this trend will continue through 2023. Many of the materials and components that were troubling the construction market since 2020 have stabilized. However, there is still upward pressure on certain material prices while the demand continues to be strong. As the supply chain bottleneck continues to improve in many markets, I am also seeing a correction in construction inflation. I still do not expect the historical norms of 3-4% per year but predict it will be approximately 6%.
Steel: The cost and availability of steel is stabilizing, but costs remain higher than they were in pre-pandemic 2020. I expect further reduction in costs in the first half of 2023 as development continues to decline due to rising interest rates.
Copper: The cost of copper continues to rise due to an indication that there is a shortage of supply caused in part by instability in China and the on-going conflict in Ukraine. As the demand for copper continues, the shortage will cause delays in manufacturing products and procuring equipment that contains copper. I expect continued rising costs through 2023.
Electrical Components: There has been strong demand for electrical components since the onset of the pandemic, and it has had a profound effect on the construction industry. Lead times of mechanical and electrical equipment are the longest I have seen in my career. Most items which were typically procured within the timeframe of a project, now require early procurement. Some have lead times exceeding 80 weeks. This includes chips, microprocessors, and semiconductors in HVAC units, generators, switch gear, fire alarm equipment, temperature controls, building automation, electrified hardware, etc. I do not expect this to recover within 2023, and I fear it will get worse before it gets better.
Wood: For the time being, the wild fluctuations in costs are under control and back to normal. Barring any significant event such as a hurricane or other natural disaster, I do not expect any issues with wood going forward. Wood doors, however, continue to be a lead-time issue with anything other than paint grade doors often demanding 16+ weeks to arrive on a job site.
Roofing: Throughout 2020, 2021 and the first half of 2022, roofing insulation and materials demanded a 6-month lead time and often pricing could not be confirmed until the ship date. Both lead times and pricing have stabilized, and I expect this trend to continue in 2023.