Jen Sinclair – Gardener Extraordinaire
Jen Sinclair is our Project Accounting Manager and the next feature of our "Focus on People" campaign. Whether she's helping new Project Administrators to learn about business divisions or literally cross-pollinating her corn crop, she facilitates growth for people and plants alike.
Nurturing a New Hobby
Like many of us during COVID, Jen got frustrated by the lack of grocery store inventory. With two growing boys to feed in her household, she decided to take matters into her own hands and grow it if she couldn't buy it.
She and her husband devoted themselves to binging on 'DIY' YouTube videos and learning how to seed a whole range of organic fruits and vegetables. They nurtured asparagus, corn, zucchinis, eggplants, and more up from the soil. Jen then transplanted the seedlings into her newly-built beds and waited with bated breath.
Bees Don't Like Rain
Unfortunately, this summer in MA was particularly wet. Revisiting Google, the Sinclair family learned that bees, who couldn't fly in the rain, hadn't found their crops. The plants were in desperate need of pollination if they were going to produce anything substantive. So, with a keen eye and a lot of patience, the Sinclairs used paintbrushes to dab pollen from plant to plant and help them cross-pollinate.
Thankfully, as August brought sunshine, the bees found the Sinclair's house and took over the pollination process. Then the family started getting more fruits and vegetables than they knew what to do with. Prompted to try new recipes, the Sinclair boys cultivated a taste for their home-grown eggplant parmesan (see Jen's recipe at the end!) and all sorts of zucchini recipes.
With such a plentiful harvest, Jen's also enjoyed sharing produce with friends and neighbors. They've even started a backyard composter for their vegetable scraps and coffee grounds that will hopefully feed future gardens.
Pollinating Project Administrators (PAs)
In a work-life cross-over, Jen notes how funny it is that we actually talk about 'cross-pollinating' PAs at Commodore. As a practice, we find it incredibly helpful to make sure they get a chance to work on commercial, institutional, and corporate interior projects. This broad exposure gives them a more holistic understanding of the industry. It also helps our team problem-solve and work together more effectively.
The gardening metaphors don't stop there. Using observations from this year as a baseline, she's looking forward to rearranging her beds of seedlings next year. With a better handle on what needs more water and which beds get the most sun, she can put crops into the spaces that will help them flourish.
In the same light, she loves that in her work, she gets to see how someone's acclimating to a particular position. If they're not thriving, she can help them move into a better fit that will 'allow them to blossom.'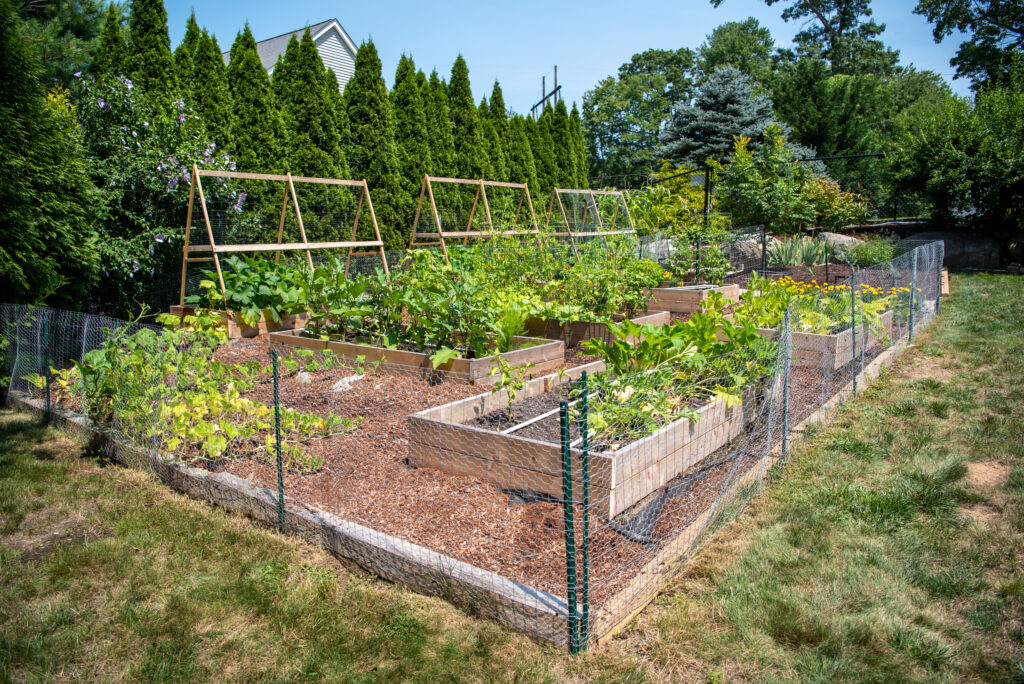 What's Next?
Whether it's mentoring people or transplanting seedlings, Jen's excited for the future. Next year ideally, she'll see asparagus grow out of the dirt and experiment with more recipes that feature her vegetables.
Stay tuned for more features on our team and their range of talents and interests!
SINCLAIR EGGPLANT PARMESAN
Garden Ingredients:
Grocery Store
Vegetable Oil
Italian Bread Crumbs
3 Eggs
Rao's Tomato Basil Homemade Sauce
Shredded Mozzarella Cheese
Fresh parmesan cheese
Fresh Mozzarella
Directions:
Heat a frying pan with a couple of inches of vegetable oil.
Preheat oven to 350 degrees.
Layer a plate with paper towels.
Thinly slice up the eggplants.
Scramble the eggs in a bowl.
Put the bread crumbs in a bowl.
After you cut thin slices of eggplant – dip them in the egg and then Italian breadcrumbs.
Fry them in vegetable oil in a pan at about 375 degree heat until light golden brown. Just a couple of minutes on each side. Then put them on the plate with paper towels to absorb the excess oil.
Pour a light layer of sauce on the bottom of a glass baking pan. Put a layer of the eggplants, then cover with a layer of sauce, then mozzarella cheese, basil, and parmesan cheese. Repeat these layers until you are all out of eggplant – or at the top of the pan.
Bake in the oven at 350 degrees for roughly 30 minutes.
ENJOY!