From Moscow to Massachusetts – on Ice
Turning passions into professions, Vladyslav (Vlad) Plakhotnyi's journey as a Ukrainian-born hockey player has brought him around the world, to new careers, to love, and to Engineering and Technical Services (ETS) as Commodore's indomitable VDC Specialist.
An Early Start
Vlad started playing hockey at the age of 12 and quickly transitioned into the net to begin a career as a goalie. After accumulating numerous victories and championships, he started playing college hockey at 15 and went pro shortly after.
Playing Abroad – From Oregon to New York to Russia
Unsatisfied with hockey growth opportunities in Ukraine, at 19, Vlad started traveling around the world to find new challenges.
He played on teams in Bloomington, Illinois, Medford, Oregon, and in Brewster, New York, before eventually jetting off to Moscow, Russia, to try his luck there as a free agent.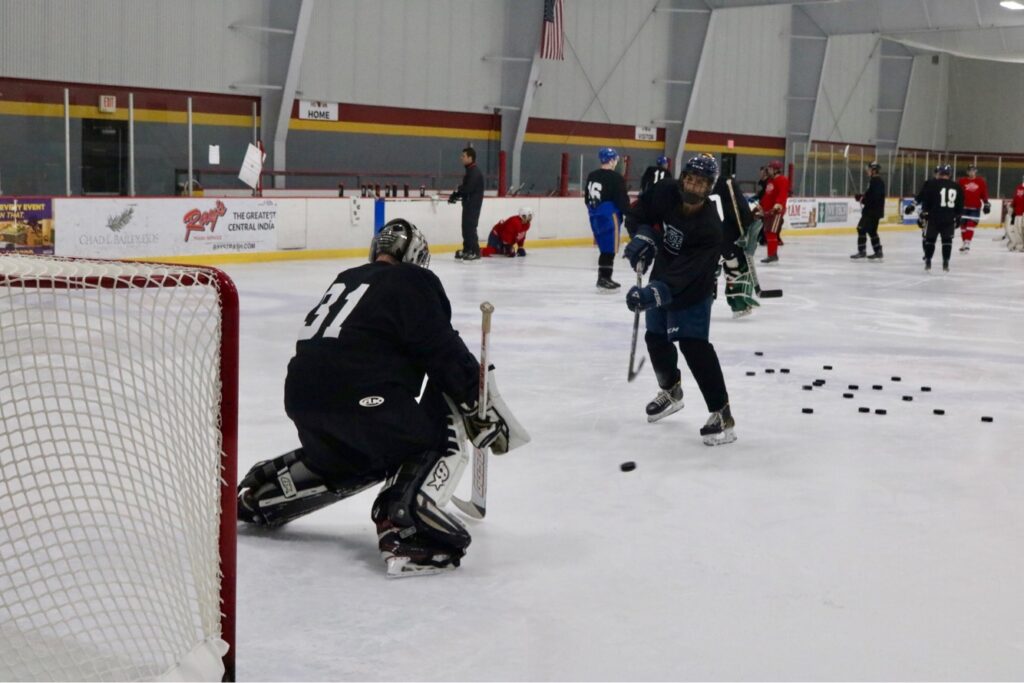 Pursuing Passion 2.0
Vlad's first months in Russia found him balancing free agency with a burgeoning career in architecture. Having always been fond of innovative technology and graphic design, Vlad found a second job as an office assistant in the IRH House architecture firm. Within three months, he was a Junior Architect.
Vlad worked for a year in Russia, balancing his interest in architecture with his continuing appetite for competitive hockey. Eventually, his agent found him some opportunities near his former Oregon billet (host) family, and he started playing in the US minors while continuing to work for IRH House.
Love on Ice
Vlad was balancing his increasing interest in building design with his grueling hockey career when he met Jetta on the rink.
Like Vlad, Jetta was a hockey goalie, and she was home visiting family nearby in Oregon. The two intrepid athletes started training together and dating when they found more than just a love of hockey in common.
All their hard work paid off when they both found teams to play with on the East coast. So, Vlad was on the move once more, this time with Jetta.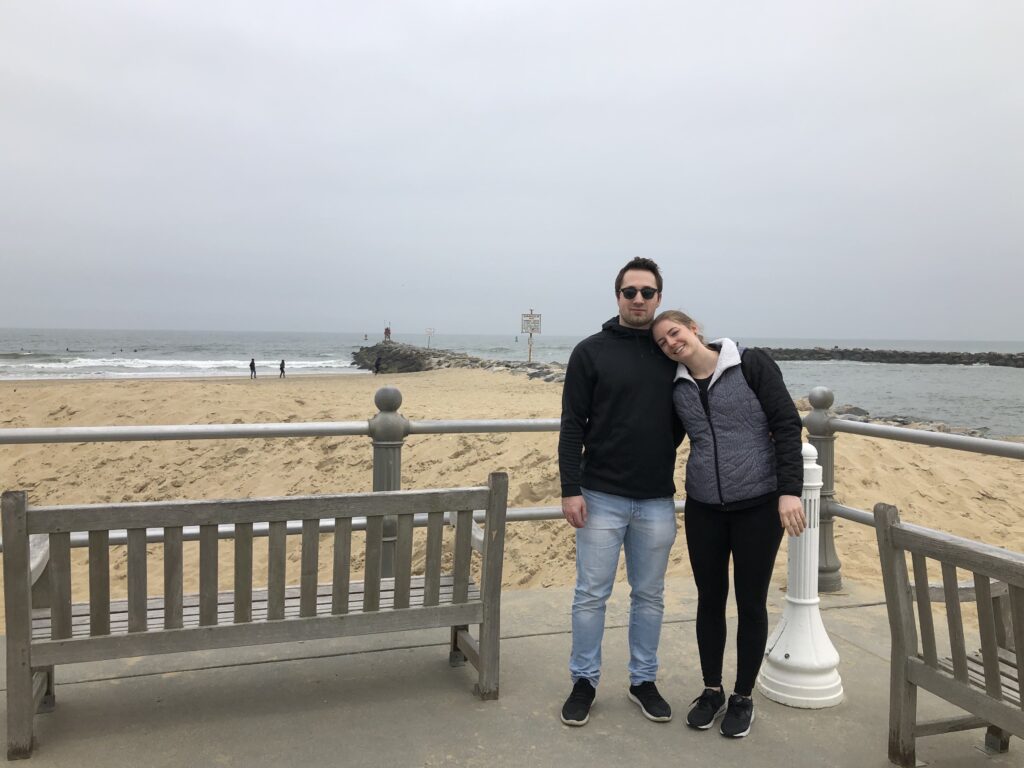 As they say, goalies that train together stay together. Or if they don't, they should because Jetta and Vlad soon tied the knot! Then, the newlyweds had the unexpected opportunity to spend a lot more time together when they were each injured and off the ice for a year.
Trading ice packs for skates, Jetta came off the bench strong and had a great season with the Boston Blades, but Vlad decided the time had come for hockey to become more of a hobby than his full-time job.
Trading Hockey for Homework
During Vlad's world travels, he had kept working full-time for the IHR House. With a renewed commitment to his passion for technology, Vlad found a design job in New Hampshire and began pursuing architecture at the Boston Architectural School.
The venturesome Vlad soon outgrew his role in New Hampshire and found his way to Commodore and the role of VDC Specialist.
Committing to Construction
The shift from architecture to construction was easy for Vlad. He loves design, but today he is more intrigued by how everything comes together, the big picture of constructing a building, and he's compelled by the constant challenges and the opportunities to explore new technologies.
Vlad believes that his architectural and hockey roots have been crucial to his success in construction. Architecture "gives him a solid foundation, from how to read drawings to how the building comes together from architectural, structural and MEP points of view."
Plus, he can speak design language, which definitely helps when collaborating with architecture firms and clients, trying to find solutions to complex challenges.
What Does Hockey Have to Do with Construction?
As most team sports athletes will tell you, your success on the ice depends on knowing when to lead and when to follow. As a goalie, Vlad was constantly balancing that dichotomy. Now he takes that ability into meetings with partners and his Commodore team members.
Beyond hockey's larger life lessons, it's a grueling sport that requires constant training. Those drills prepared him for the fast and evolving pace of working with technology. Vlad's capacity to keep up is consistently demonstrated in his work here as an instrumental player in advancing our 4D logistics and helping us better understand our sites and progress with his drone shots.
Plus, hockey training requires countless early mornings and late nights to take advantage of ice time, and Vlad says, "I learned a mindset to work smart and hard to get s**t done."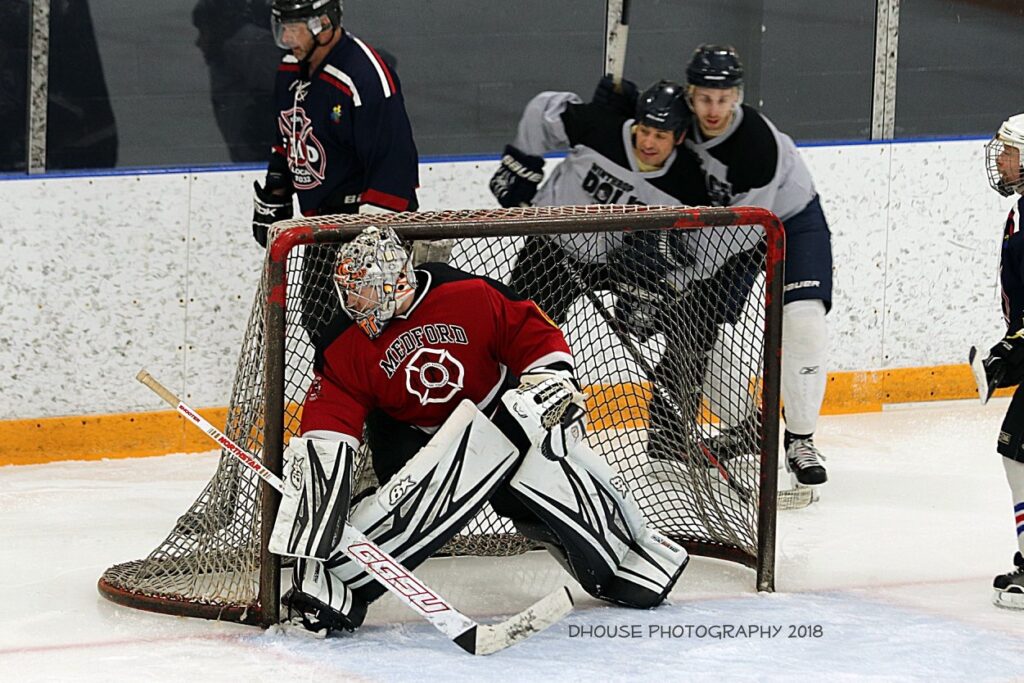 What's the Next Challenge?
Hockey's given so much to Vlad that he wants to continue to pay it forward. After coaching youth teams in Oregon and Russia, he now coaches at the Woburn 'Stop It Goaltending' School. He helps future generations of athletes to learn and grow as players and people.
Vlad hasn't given up on playing hockey. He just shifted it into hobby gear. He's started playing with the local Medford Fire Department. To overcome his decades-long drive for perfection that can make playing at the amateur level difficult, he's shifted forward to playing defense.
Moving out of the net is a whole new challenge for Vlad, but the team recently won the Men's League Championship Cup, so it's going pretty well.
From Kiev to Oregon to Brewster to Moscow to Massachusetts, Vlad has built an incredibly rich life embodying the old adage that you should always follow your passions.