Dedham Public Safety – on to the next phase!
The long-anticipated Dedham Public Safety building received its last structural beam on Wednesday in the topping-off ceremony.
History of the Project
Starting back in the 1970s, the town, firefighters, and police force recognized the need for a new space for their public safety teams. Their old buildings, some dating back to the 1800s when firefighting included actual horsepower, no longer met their modern needs.
The firefighters and police have been restricted in the joint exercises, team growth, community engagement, and even the type of new vehicles they could purchase for the town, based on what they could fit into outdated structures.
As the Chiefs of Police and Fire (Michael D'Entremont and William Spillane, respectively) noted today – this new space will allow their teams to train together, operate more effectively, and maintain their health and wellness. It will also boast an open community space, increasing opportunities for positive interactions, and capable of hosting events like CPR training and general meetings.
Inside and out, the new Dedham Public Safety building reflects the town's commitment to supporting their first responders, their town, and sustainability as they pursue LEED V4 Silver Certification.
Speeches and Ceremony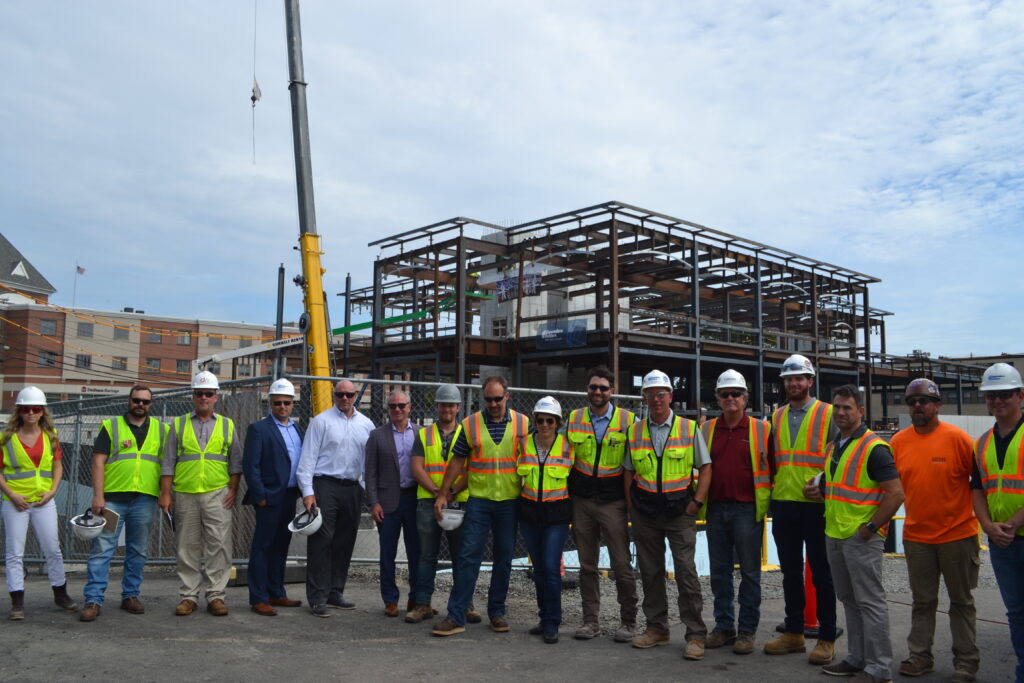 State and town officials and the construction team showed their excitement for the project by representing in force today.
Kicking off the event was Dimitria Sullivan, Select Board Chair, followed by Paul McMurtry, State Rep, and Chiefs' Spillane and D'Entremont, who each reiterated their excitement for the project and joy in its timely progression from a 'hole in the ground' to an actual structure. Chief D'Entremont particularly noted his appreciation for the whole team, saying that Commodore, Dore + Whittier, and Vertex have been "outstanding and professional as can be."
Commodore's President and CEO Joe Albanese followed this esteemed line-up with his address, recognizing the courage and sacrifices of the town's first responders and how this building will help them in their efforts to keep the town safe.
GP East Steel's owner, Peter Nahas, kept his comments brief and kicked off the efforts to place the beam. Raised high and gently lowered into place – the topping-off ceremony reflected the excitement of all to build the new structure. It also highlights the longer overdue excitement for this new space.
We're looking forward to the Fall of 2022 when the public safety building is slated for completion. In the meantime, we couldn't be more proud of the work done so far by our Commodore team and our partners and sub-contractors.

A Big Thanks to the Dedham Public Safety Building Team!
Architect: Dore + Whittier
OPM: Vertex
Construction Manager: Commodore Builders
Ground Improvement: Helical
Steel: Trimax and GP East Steel
Demo: Costello
Sitework: AJ Welch
Concrete: Marguerite