Construction and Country Western Dancing with Amanda Clark
Amanda Clark is not only a Senior Project Manager at Commodore. She's a professional Country Western and West Coast Swing dancer.
What do these roles have in common? A lot more than you'd think because they both come down to knowing how to coach people.
Keeping Active and Staying Challenged
Amanda started competitive ballroom dancing as an undergrad at Northeastern University.
The movement and activity of the sport drew Amanda in, and she quickly cultivated her natural talent for dancing. After graduating, she signed up for one dance class, and the studio owner, recognizing her talent, immediately offered her a part-time teaching job.
Amanda jumped at the chance and began balancing a daytime career at an architecture firm with evenings spent helping kids learn the intricacies of movement.
After creating lesson plans and helping her young students mature as dancers, Amanda was suddenly tasked with teaching an elite competitive ballroom class.
She started traveling and competing with the team, which automatically qualified her as a professional dancer. Reveling in the glamorous ensembles and the excitement of sport, Amanda quickly found a dance partner and took on more ballroom competitions.
From the Ballroom to the 'Barn' Floor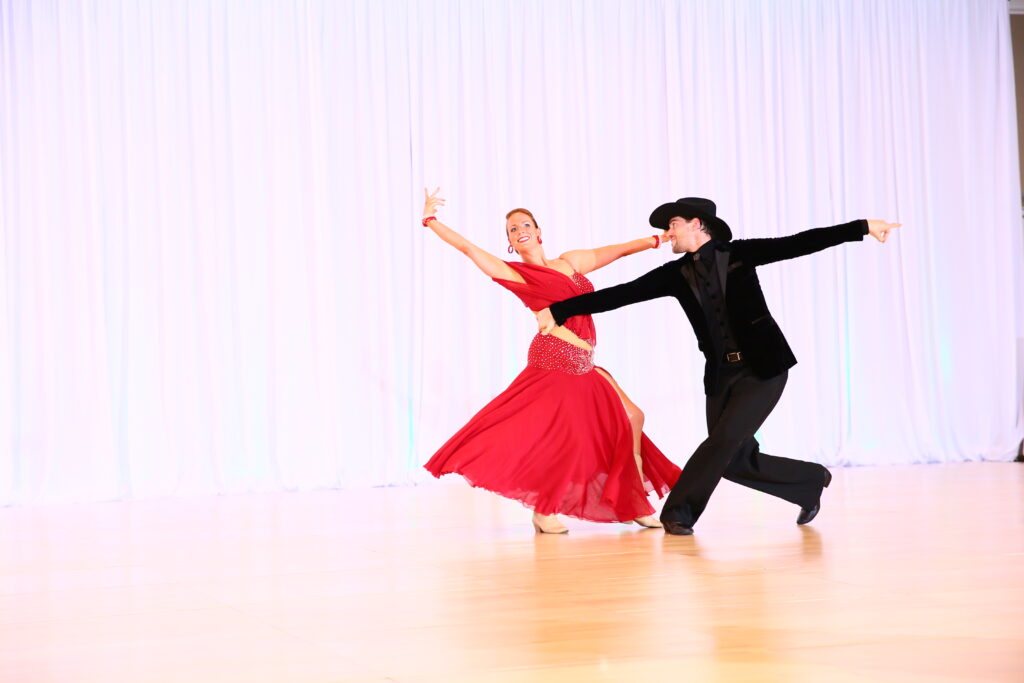 Physically competing against 18-year-olds when you're in your 30s is about as grueling as it sounds. So, after a few years, Amanda and her partner found two new dance styles, Country Western and West Coast Swing, equally exciting and with more mature competitors.
It's a different style of competition, and a different type of people competing. The West Coast Swing, as Amanda describes it, is a competition is based on the dancer's ability to perform on the spot.  Dancers sign up. They're assigned a random partner. A song is played. Dancers start dancing, and judges start judging. To Amanda, this was a fascinating challenge that kept her mentally and physically engaged.
She and her couples dance partner Christopher Muise also enjoyed switching into the Country Western dance style because competitors are as friendly as they are exuberant.
From the 'Minors' to the 'Majors'
Today Amanda and Christopher are among the top dance couples on the international Country Western scene. They've competed in the UCWDC Worlds for five years and podiumed in all but one. Just last week, Amanda and Christopher came in Fifth place!
This impressive feat puts them one step closer to qualifying for Masters, which is the top competition bracket, equivalent to moving from the minors to the MLB.
Nurturing Students and Building Skills
For someone whose earliest dream was to become a teacher, Amanda loves finding instruction methods to help her students learn and grow.
Whether through words or demonstration, Amanda has a talent for mentoring. It's no wonder that she's successfully coached ballroom teams at Boston University, Tufts, and UMass Lowell and built productive project teams throughout her construction career.
Amanda's people skills shine through as brightly on project sites as they do on ballroom floors. As a Senior Project Manager in our Institutional Group. Amanda ensures her project teams feel challenged and supported. She teaches them the fine art of negotiating with subcontractors and the nuances of discussing change orders with architects.
From her days working on the client-side at Northeastern University, she feels she has an inside perspective on how to help our Institutional clients make smart, informed decisions.
Finding a New Balance
As someone who is constantly pushing herself, Amanda is excited about the new challenge in her life – becoming a judge!)
Amanda is now working through her judging certifications. She hopes to make the 'major league' and to also judge other competitions in 2023.  Becoming a judge will help Amanda better understand how to point out opportunities for competition improvements for her students.
Amanda's remarkable skill and dedication to dancing, coaching, and mentoring are woven through the fabric of her life. They help her compete at the highest levels across the country and help her build robust and effective construction management teams here at home.
Commodore may even get to experience some of Amanda's teaching skills in a dance clinic in the future!