At 11 AM today, a wreath was laid at the Tomb of the Unknown Soldier in Arlington National Ceremony. This commemorative event is held on the 'eleventh hour of the eleventh day of the eleventh month' to recognize the end of World War I in 1918.
Today, Veterans Day pays tribute not only to the Unknown Soldier but also to all our American Veterans who served their country honorably during war and peacetime.
Many of us know someone who's served in the military, perhaps a parent, sibling, friend, relative, or grandparent. For the Commodore team, the list also includes our own President and CEO, Joe Albanese.
Joe founded Commodore in 2002 and continued to serve in the United States Navy Civil Engineer Corps until his retirement as Captain in 2010.
His 28-year career included active and reserve duty, as well as a ten-month leave of absence from Commodore Builders in 2007. During this time, he mobilized to active military service with the Naval Construction Forces in the Middle East. There he served as Commander, 22nd Naval Construction Regiment (FWD), and Commander, Expeditionary Task Group 56.2 for US Naval Forces Central Command. During this time, he provided leadership to more than 2,200 Navy Seabees throughout Iraq, Afghanistan, Kuwait, Bahrain, and The Horn of Africa.
His experience in the military has shaped not only his own values but Commodore's mission and approach to business.  The leadership lessons he learned in the military, and specific skills in Contingency Engineering, Disaster Recovery, and Humanitarian Relief were put to work when Governor Charlie Baker appointed Joe to the role of Chief Recovery Officer to oversee the Merrimack Valley recovery following the gas explosion disaster in 2018.
We're grateful for Joe's leadership and to all the Veterans in our community, and we're committed to joining him in assisting other Veterans through our work, networks, and philanthropy.
Given that we're a Veteran-owned company, we particularly enjoy working on projects with direct connections to supporting Veterans. As such, there are a couple of projects in the planning stage that we're particularly excited about.
We are working in partnership with Walsh Brothers, Inc. as construction managers for the new Soldiers' Home in Holyoke, MA.
Building Pathways to Success 
There are numerous exceptional non-governmental organizations dedicated to assisting Veterans. These are a few with which we are proud to partner and encourage others to support as well.
Wentworth Institute of Technology (WIT)
WIT has an extraordinary program to support military-connected students through scholarships and professional connections. We've enjoyed working with them, and most recently, we were delighted for our own Veteran, retired Navy Captain Mike Price, to be selected to lead the Pledge of Allegiance at their 14th Annual Veterans Luncheon.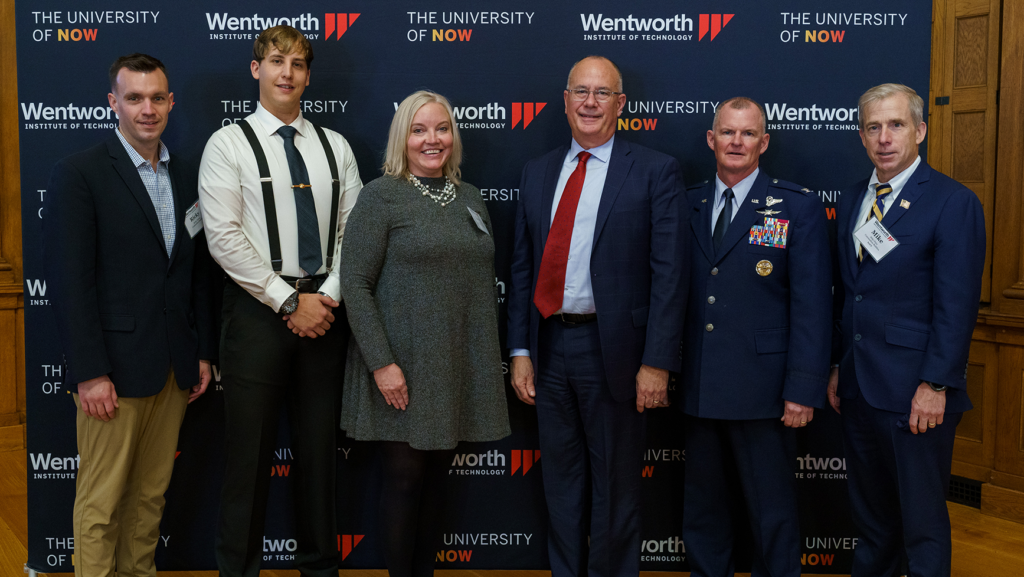 This organization is on a mission to "raise money to build and remodel injury-specific, accessible and mortgage-free homes for our injured United States Military Veterans returning from Iraq and Afghanistan."
Commodore collaborated with Jared Allen to build a new, handicap-accessible home for Army Veteran Corporal Paul Skarinka in 2019, who was injured in the line of duty. Donating our time and expertise and coordinating volunteers and donations from many of our trade subcontractors and union partners, we were able to help the Skarinka family settle into a new home that accommodated all of their needs.
NECHV's mission is to "equip Veterans who are facing or at-risk of homelessness with the tools for economic self-sufficiency and to provide them a path to achieve successful and dignified independent living."
Joe spent more than 25 years on their Board of Directors, most recently as Chairman of the Board. He led them in their $35 million renovation to create 37 efficiency apartments and upgrade, renovate and reconfigure service space to enable newer and more varied models of service to Veterans for generations to come.
Other members of the Commodore team have also enjoyed volunteering with NECHV throughout the year to help serve meals for them and connect with the patrons and mission.
This organization works to "prevent homelessness by providing very low-income individuals with permanent housing, support, a sense of community, and expanded opportunities."
For over 35 years, they've been a bulwark against homelessness in the Greater Boston area.  Commodore has not only been a proud philanthropic supporter of their mission but we were honored when they selected Joe Albanese to receive their P. Leo Corcoran Humanitarian Award.  In 2020 Caritas distinguished Joe for "going above and beyond in serving his country and his community, as well as his long-term support of Caritas and homeless Veterans."
These organizations, and many others, are working to create a more equitable and supportive environment for our Veterans, and we're looking forward to witnessing their continued successes.
There are many ways to support and express your gratitude for the men and women who have served in the US military.
Today, we'd like to recognize the Veterans in our lives by taking a moment to thank them for their service and would encourage you to do so as well.